Ergonomic Consulting

Ergonomics – an applied science concerned with designing and arranging things people use so that the people and things interact most efficiently and safely —called also biotechnology, human engineering, human factors.
Questions to ponder…
Does your pain level go up and down?
Are some days better than others?  Ergonomic training can lower your pain levels and decrease the amount of "bad days" that you have!
Is your couch soft?  Would you like to have ergonomically correct seating?
Do you have trouble standing up after sitting for an extended period of time?  Want to know why and how to ergonomically correct this?
Would you, your family or employees like to learn how to ergonomically set up your surroundings to help decrease your pain and risk of repetitive injuries?
If the answer is YES to any of these questions then the problem probably lies in either your biomechanics or how your work or home is set up.  In my 20 years of practice I have  had many family members and friends who have suffered with back and neck problems who didn't realize that they were sitting in the wrong type of chair, sleeping in the wrong bed, bending improperly, looking at their phone or computer the wrong way and they didn't start improving until I actually was able to see them in their daily environment.  Posture is NOT and easy thing to change.  I offer in home and work Ergonomic Evaluations because I know that patients need an outside objective eye.  I know how it is to be in pain as I suffer from 1 herniated disc in my neck and 4 herniated discs in my lower back.  In 1998 my lower back pain and right leg weakness was so bad that I had to sell my practice in Santa Barbara and take some time off bending over patients.  I have since worked extremely hard on my ergonomic posture, biomechanics and made sure that my surroundings (couch, chairs, bed, car) were ergonomically safe.
Posture, Consulting, tips, seating, correct, training
Spinal Care – Do's & Dont's
1. Always try and keep the forward (lordotic) and backward (kyphotic) curves in your spine. These curves are your friend as they work like a shock absorber and distribute your weight evenly over each vertebrae and disc. Scolioisis on the other hand is not good and it is a lateral curvature of the spine from side to side. So avoid postures where your body is tilted to the side for extended periods of time.
2. Sitting – keep your knees and hips at 90 degrees and sit all the way back in your chair with the small of your back supported keeping the curve in the lower back. If your chair does not have a lumbar support already built in you can buy one or roll up a towel about the same diameter as your wrist and place it in the small of your back for support.
3. Make sure to set up your workplace correctly. Get an adjustable chair that will allow your hips and knees to be at 90 degrees. Once in this position your computer keyboard or the desktop should be at a height that will NOT cause you to shrug your shoulders or cause you to hunch forward but will allow you to sit in a very comfortable postion. Put the keyboard and monitor straight in front of where you will be sitting so that your eyes are looking straight ahead. Sounds easy but so many people do not do this.
4. Remove your wallet from your back pocket while sitting, especially if it is rather large as this acts like a shimmy and tilts the spine from side to side putting unnecessary stress on the weaker areas of the spine (see skeletal image on left).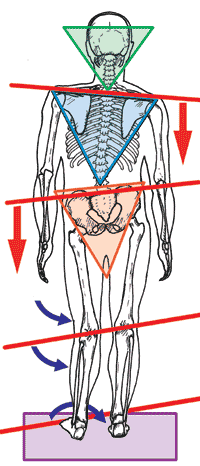 5. Most couches will aggravate lower back conditions as they make you sit too low which does not allow you to keep your hips and knees at 90 degrees. Also, they make it difficult to get up and down from and don't offer much lower back support, especially if it is a soft couch and almost all are.
6. Watching TV – Do not watch TV in bed with your head propped forward on several pillows to see the screen as this takes out the normal curve in your neck and causes subluxations which leads to a loss of the normal cervical lordotic (front to back) curve and causes Forward Head Posture (FHP) over time…look at diagram to the left. If you have to watch TV in bed and I do NOT recommend it but you can mount your TV as high as you can to minimize your head being propped forward. Do not watch TV on the couch with your head rotated or your body twisted as over time this will create subluxations in your spine. Sit directly facing the TV keeping your knees and hips at 90 degrees with your lower back supported.
7. Avoid reading in bed with your head propped forward on several pillows as this will cause you to reduce the normal cervical lordotic curve and cause subluxations and Forward Head Posture (FHP)…look to image on left.
8. Sleep – Get at least 7 hours of restful sleep each night to allow your body a chance to rest and heal. Avoid water beds, hammocks, beds that are too soft and beds that are too hard as these will alter your normal lordotic and kyphotic curves. Once your mattress starts to dip down like a hammock or if you wake up day after day with lower back pain that gets better as the day progresses it might be time for a new mattress. Get one that allows you to keep your natural lordotic and kyphotic curves of your spine. The memory foam mattresses work the best as they allow you to keep your natural curves of your spine. Try and sleep in a neutral position with no rotation in your spine. Sleeping on your side puts the least amount of stress on your lower back and is best for lower back conditions while sleeping on your back is better for mid back and neck problems. Sleeping on your stomach is not good as it puts your spine in rotation for hours at a time thus altering your natural curves and putting unnecessary rotaion into the spine over time and again causing subluxations. Sleep with only 1 pillow as 2 will cause Forward Head Posture over time. I recommend getting a memory pillow that supports your natural cervical lordotic curve (see image on left). If you are looking for a memory foam mattress or pillow just ask me I might be able to save you money as many of the mattress companies send me offers from time to time.
9. Lifting – If you have a lower back condition it is better to pay someone to do your lifting for you. Spending your money on movers or laborers may cost you more up front but it will save your back and money on treatment in the long run. If you do have to lift make sure you use a back support/brace if the object is heavy, keep the object close to your body, keep the lordotic curve in your lower back, lift with your legs not your back and do not twist and lift at the same time.
10. If you are Overweight, try to lose weight and get back as close to your optimal weight as possible. Excess weight will put more stress on your spine, knees, hips and feet, which will slow down the healing of your back.
11. If your in pain, avoid caffeine and sugar as they will make you more sensitive to pain.
12. Shoes – Don't wear improperly fitting shoes as they will alter your gait (the way you walk). Unbalanced shoes can lead to a chain reaction of problems that can translate upward from your feet to your knees and even your spine. If you have a lower back condition, avoid high heels as they will excessively increase the lordotic curve in your lower back (sway back), jam the facet joints (posterior joints of the vertebrae) and make the holes where the spinal nerves come out smaller and thus increase the likelihood of pinching the nerves exiting the spinal cord. Wear comfortable, rubber soled shoes to absorb the shock of walking so that your back, knees and feet don't have to.
13. Try and reduce the stress in your life as stress can cause muscles in the back to tighten and pull on the vertebrae. Easier said than done I know, but try to live in the moment.
14. Avoid Smoking because it will dehydrate the vertebral disc and that in turn will lead to degenerative joint disease.
15. What is the first thing an athlete does when they get an injury on the field…ICE! Always ice new injuries (20 minutes on and 1 hr. off and continue this until the swelling and or pain diminishes). Avoid heat as heat will increase the swelling of an acute/new injury. If you have just sustained a disc injury (usually a lifting and/or twisting injury) do NOT go into a hot bath, hot tub or jacuzzi as this will surely increase the swelling in the disc and there is a good chance you will wake up the next morning hunched forward and to the side, barely able to walk with a swollen disc.
16. Be Optimistic…healing takes time!
If you have any questions about how to take care of your spine or any other injuries email or call me.