Poor Posture Treatment
When you practice good posture, your body is in better alignment. Good posture can alleviate common problems such as neck pain, back pain, headaches, and fatigue. Being in good general health and standing (or sitting) tall will also boost your bearing and self-confidence. When looking at yourself from the front you want to be level at the ears, shoulders, and hips. From the side view you want your ear to line up with your outer ankle bone while you maintain the forward curves in your neck and lower back allowing the mid back to follow. If you aren't sure if you have good posture then have someone take a picture of you with your phone so that you can keep it as a reminder while you sit, stand, work, sleep and odds are you will be shocked.  You can also get evaluated by a chiropractor to evaluate your posture.
While sitting you should be sitting upright on your ischial tuberosities (sits bones) and the rest will follow. If you sit with these two bones vertical you are setting up the base for the rest of the spine. Make sure your shoulders should be relaxed and keep your eyes forward. Sit in a chair that supports your lower back with your hips and knees both at 90 degrees.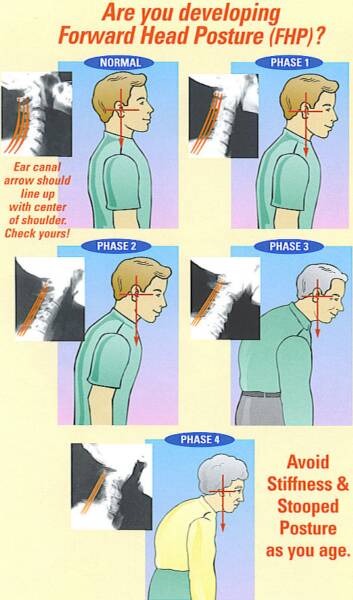 Avoid watching TV in bed, reading and working on your lap top on the couch, looking down at your phone and reversing your cervical (neck) curve. Just remember that the cervical (neck) and lumbar (lower back) curves are your friend and when you reverse them by slouching you are setting yourself up for problems in your spine. When you flex forward the disc bulges backward toward the nerve roots. Have you ever had trouble getting off the couch after sitting for a while and it took you awhile to stand up straight? That is because you lost your lumbar lordosis and increased the bulging in the discs of the lumbar spine. Next time try putting a pillow behind your lower back or avoiding seats that are too low and soft. Your back will thank you and you will minimize your flare ups.
Sleep on your back. When you sleep on your side your neck and upper back are rotated in 1 direction for an extended period as this makes it harder to rotate the other direction. Sleeping on your side should also be avoided as this creates uneven shoulders which can also lead to shoulder problems; a rounded (hyper kyphotic) upper back that can cause forward head carriage and dowager's hump (hunch back). Sleeping on your back like a mummy will put you in an anatomical position and allow you to maintain good posture. Make sure to only sleep on 1 small neck pillow that does not push your head forward. I recommend a firm mattress with a memory foam overlay on top which will support the natural curves of your spine and is much more cost effective than buying a mattress made completely out of memory foam. Avoid pillow tops as the down feathers tend to move and you lose support after a while. I am not impressed at all with the overpriced and well marketed Sleep Number beds as they only have around 20 adjustable chambers from head to toe for a king and with 24 vertebrae in the spine there is no way you can support the natural curve of your spine.
The keys to good posture are spatial awareness, proper alignment, flexibility and strength.
Spinal extension exercises will strengthen the muscles in the upper and lower back and help you to maintain good posture.
Make sure to keep the curve in your lower back when lifting, bend at the hips and knees and use your legs to lift.  Keep objects as close to your body as possible.